(Updated August 2, 2020)Ethereum will hit half a decade this coming July since launch, and if everything goes well, it will initiate its transition to ETH 2.0, which will solve scalability issues. That will be quite remarkable for the platform that brought smart contracts and dapps to the blockchain. Progress on its development will rally its huge community, and this will have a positive effect on its price, which has underperformed over the past two years. So far, we see evidence of positive momentum in 2020 as several factors conjure to spur ETH price.
In this Ethereum price prediction, we are going to analyze the latest news and developments, price history and evolution over the past two years, and TradingView charts as we try to find out why Ethereum price is likely to break past $300 by the end of the year. Also, we will include some expert predictions on why this is a bullish year for ETH.
Buy Ethereum on Binance today!
Notable Ethereum news & Plans for 2020 and above
Vitalik Shares His Vision For ETH 2.0 Development 
In a tweet made last month, Vitalik Buterin shared his vision and personal roadmap for ETH 2.0 development. The tweet covers the next five to ten years of the project development. 
The Ethereum cofounder emphasized that research and development would go on despite recent challenges. According to him, moving forward, there should be less fear of complexity with the system update as the upcoming changes should address previous issues. 
In a tweet he noted:
"The "quadratic sharding as the end of history" approach ensures there will not need to be a further upgrade as large as the eth1 -> eth2 one; rather, from eth2 onwards, things will be much more incremental."
Reflecting on the last two years of Etherum's development, he added that:
"In general, over the last ~2 years, there has been a solid shift from "blue sky" research, trying to understand what is possible, to concrete research and development, trying to optimize specific primitives that we know are implementable and implement them."
Earlier last month, Vitalik speaking to a crypto media publication noted that Ethereum's main goal for the year was to launch Phase 0 of ETH 2.0. after this, ETH 2.0 will begin as independent proof of stake network. 
Vitalik's comments on the progress came just a month after Justin Drake, an Ethereum 2.0 researcher, informed the public via Reddit that they planned to upgrade the network on its 'fifth anniversary, July 30, 2020.' The assurance from Vitalik and developers has aided ETH price as the coin is 31% up since the beginning of the year. 
According to Sharan Nair, the chief business officer at CoinSwithch.co and CRUXPay, "Investors likely bought into the promise of ETH 2.0, which is said to scale the Ethereum blockchain significantly," Also, some investors may have snapped up coins for staking after the protocol upgrade."
Ethereum Price Is Getting A Boost From Growth of DeFi
Data from DefiPulse indicates that the decentralized finance (DeFi) space exploded in 2019. The total value locked (TVL) in protocols rose from $320 million to over $670 million. 
And on February 15, the TVL rose further to a record high of $1.219 billion. According to Nair, "the numbers tell us that investors see DeFi to be truly disruptive and believe it can replace traditional finance, leading to increased accumulation of ether."
MakerDAO, a lending platform, is currently the largest DeFi project with a 49.81% dominance. Most of the popular projects on the list are based on Ethereum's blockchain, and this explains why we are witnessing the growth of the ETH price alongside that of DeFi. 
Also, the number of Ethers locked in DeFi rose from 1.912 million to 2.921 million between January 1, 2019, and Dec.31,2019. The number increased further to a high of 3.192 million on Jan.29,2020 before dropping to 2.71 million this week.
Ethereum (ETH) 2018-2020 Historical Price Analysis 
Ethereum charts 2018 – 2020 coinmarketcap.com
The beginning of 2018 saw Ethereum peak in price achieving its all-time high on January 14 of $1,400. However, that is as good as it got as a steady decline set on with high price volatility throughout the year. By April 5, 2018, the price had dropped to $370 before doubling to $790 by May 5th same period. But, that would be the last time the ETH price would see such highs as a steady decline set on which saw the coin end the year at $137. (Calculate the %)
2019 was a more consistent year for Ethereum even though there were the price fluctuations, which is common in crypto; they were quite minimal. The price managed to hold between $130 to $300 throughout the year, with a peak of $332 being achieved on June 27, 2019.
2020 began at the $130 level, and there was a steady rise in price, culminating to the year's peak so far of $280 on February 15. The price held above $200 for almost a month before dropping from the zone on March 11. A steady decline was recorded on March 12, with the price dropping from $194 to $135 (calculate the %). Since then, the price has held within the $130 to $170 range.
With the period Ethereum lost and reclaimed the second position on market capitalization from XRP. 
Ethereum 2019 popularity vs. Ethereum 2020 popularity 
Ethereum interest from 2019 Google Trends
Looking at Google trends, we see Ethereum experienced peak interest in 2019 between May and July. There was a spike of interest between May 5 – 11, Jun 9 -15, and the most interest was registered June 30 – July 6. The interest coincides with the price peak for the year before a sharp decline of interest on July 21-27.
Ethereum interest by region
Since then, interest maintained an even level until Jan 26-1 Feb. it would peak between Feb 9-15 right about when we saw Ethereum record its highest price for the year.
Looking at the numbers, it's clear there is more interest in Ethereum this year compared to last year within the same time frame.
Ethereum 2019 Price Evolution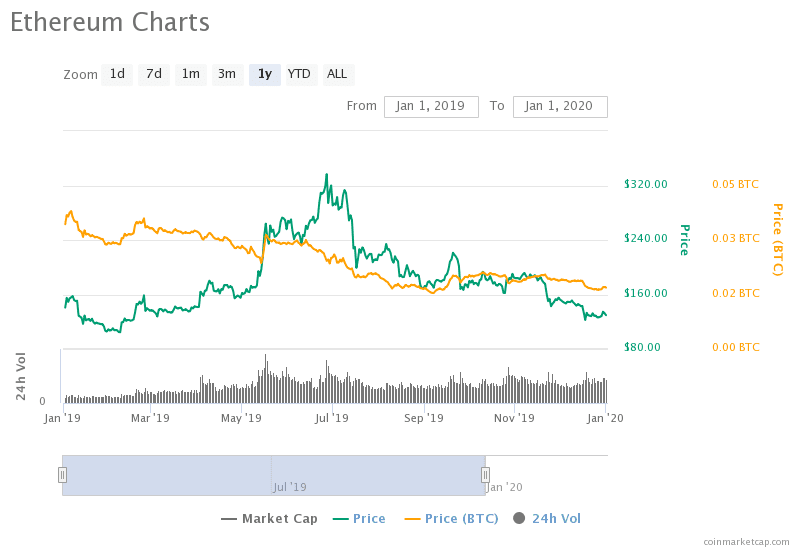 Ethereum price evolution 2019 coinmarketcap.com
The price of Ethereum was less volatile in 2019 compared to the previous year. It managed to remain with the $100 – $330 range throughout the year. ETH began the year at $140 before dropping to $104 on February 7, which marked the lowest mark the price hit. From there was a steady rise coupled with minimal decreases culminating to a peak of $336 on June 27. But that is as high as it got for ETH in 2019. Since then, there was a steady decline to the $200 zone where it held for a few weeks before dropping below $190 by August 15. The price would temporarily revisit the $200 territory between September 20 -September 24 before sharply dropping to the $160 zone. From there were minor increases and decreases with ETH ending the year at $132
Ethereum Price Predictions TradingView Analysis Updated August 2, 2020
ETHUSD will return to 400 $ by Mr-mike on TradingView.com
ETH has been in a really strong bullish trend in recent weeks. The trend started in July 23rd and the trader shows that ETH has been in an ascending channel since then. There were some touches of the upper boundary in July while in August it remained in the lower part of the channel but without reaching its bottom. 
Finally, in recent days, ETH skyrocketed above 400 which was something not many were expecting and reaching the top of the channel once again. Now, Ethereum has tested the lower boundary of this rising channel and it is traded close to 364 USDT per ETH.
BULL TRAP GUYS BEWARE…. ETH by Tradehubng on TradingView.com
For the ETHUSDT trading pair, the analyst Tradehubng is showing that the general trend is currently bearish. Ethereum has recently touched the upper band of a downtrend, which pushed the price of the digital asset towards $233,73 from $236,00. 
In addition to it, the trader considers that it is important to follow the resistance and support levels that we currently see in the market. At the moment, $234 and $235 are very important levels. If ETH breaks above them, it may be possible to retest these levels and continue moving higher. If it does not happen, we could see ETH moving towards $231 or $230.
ETH short term (05.07.2020) by Master-of-Scalping on TradingView.com
Bearish sentiment is growing around the Ethereum / Tether (ETH/USDT) trading pair. This is according to one of the analysts which is showing the second-largest digital asset could test $230 one more time before continuing falling. 
He considers that it is possible for traders to open a short around $227 and $227.50 before getting ready to see a dump in the market. Nonetheless, this will definitely depend on the general trend of the market rather than on Ethereum. The Decentralized Finance market is going to be certainly important to understand how ETH could evolve in the coming months and weeks.
ETH/USDT by bisha96 on TradingView.com
For the ETH/USDT trading pair, we see that analysts are showing two consecutive candles below $225, which is very important to understand where we find resistance in the market. Moreover, buying and selling are expected to take places between $169 and $125, which can work as resistance and support. 
While $128 is recommended by the analyst above to set up a buy order, the $169 level can be considered a good moment to sell. If ETH is able to move higher then there are new levels that are worth taking into consideration: $289 and $301, where selling can certainly take place.
ETH/USD MULTI-TIMEFRAME ANALYSIS by transparent-fx on TradingView.com
Ethereum (ETH/USD) has also broken a very important resistance that has become support. The zone is currently between the $210 and $220 region for ETH. The digital currency could come back and test the new support zone before continuing its move higher. The Fibonacci levels will also play an important role in understanding how at which point ETH will retrace in the coming days. 
On the weekly chart, the market could also be using the same support and resistance level. This confirms the zone that we have mentioned before and that the analyst shared with us. We need to see the coming weeks and how this zone will behave. 
Expert Ethereum Price Predictions 
Coinswitch believes 2020 will be a remarkable year for Ethereum and the rest of the crypto market. The price can go as high as $1600 by the end of the year since the see dapps experiencing massive adoption within the course of the year. 
According to Trading Beasts, they expect ETH to reach $900 by the end of 2020, with an average of $650.
CoinKir, a crypto prediction site, believes Ethereum could revisit its all-time high of $1,400 by the end of 2020.
Brian Schuster, the founder of Ark Capital LLC, is quite bullish on the price of ETH in the longterm. He sees the coin reaching as high as $100,000 in five years, given that crypto will replace gold.
TieuLong FX, a forex trader, believes that Ethereum could reach $1,365 by the end of the year.
According to PriReis, a respected analyst on the trading view, Ethereum could end the year at $320, which is quite realistic. 
Moving from a realistic to a more unrealistic prediction, we have Nigel Green, CEO of deVere Group, who believes Ethereum could end the year at $2,500. He sees the increasing use of smart contracts, increased demand for cryptocurrencies, and the decentralization of cloud computing as the chief drivers of the price.
Ethereum Frequently Asked Questions (FAQ)
Who Created Ethereum?
Vitalik Buterin created Ethereum alongside Anthony Di Iorio, Mihai Alisie, and Charles Hoskinson. Later on, Dr. Gavin Wood and Joseph Lubin were added to the team of developers.
When Was Ethereum Launched? 
The Ethereum whitepaper was released in 2013 and described a new open-source protocol meant for creating decentralized applications. In July 2014, a crowd sale was held where 60 million tokens were sold. The platform was launched a year later on July 30, 2015.
Is Ethereum Decentralized?
Ethereum is a decentralized open-source and distributed computing platform that allows for the creation of decentralized applications, also known as dapps and smart contracts.
Is Ethereum Proof of Stake? 
As of April 2020, Ethereum uses proof of work (PoW) consensus even though on Jul.30, 2020, the first phase of transitioning the network to proof of stake (PoS) will be launched.
Is Ethereum a Good Investment?
There is a reason Ethereum is the second largest currency by market capitalization. With scalability upgrades on the way and the growth of the DeFi space, we can confidently expect the price of ETH to grow in the future; thus, it would be shrewd to put your money on this project.
Will Ethereum go up? 
Yes, expect the value of ETH to go up in 2020 and the years that follow based on the many exciting developments taking place and as cryptocurrencies gain mass popularity.
Where to buy Ethereum?
There are many ways to buy Ethereum, including using a debit or credit card on crypto exchanges like Coinbase, Coinmama, Bitpanda, and CEX.io. You can also buy ETH using a bank account or transfer on Coinbase, Bitpanda, Kraken, Gemini, Bitstamp, and CEX.io. There is the option of buying Ethereum using a Bitcoin or exchanging BTC for ETH on exchanges like Binance, Changelly, and Coinbase Pro. 
There is no easy way to buy Ethereum using PayPal, but you can buy Bitcoin using PayPal on platforms like LocalBitcoins and exchange them for ETH.
Buy Ethereum on decentralized Ethereum exchanges by swapping coins and ERC20 tokens. Some of the best-decentralized ETH exchanges include ForkDelta, ERC dEX, IDEX, and RadarRelay.
However, remember before embarking on buying Ethereum, you need a good and safe place to store your coins. Therefore, it wouldn't hurt getting your hands on a hardware wallet like Ledger Nano X, Trezor T, and Ledger Nano S.
Buy Ethereum on Binance today!
Is Ethereum Dead?
No, Ethereum is doing quite well now that ETH 2.0 is on the way. The project will only get better with time.
Is Ethereum better than bitcoin? 
This is not an easy question to answer, since both are wonderful technologies. On top of supporting transactions, Ethereum supports smart contracts and the creation of decentralized applications (dapps).
Will Ethereum fail? 
Given the amount of development and support in place, the possibility of Ethereum failing is next to zero. There is no reason why this project can't go on for the foreseeable future.